If you want a good turn out for your upcoming event, but haven't taken the time to do the research on your target attendees, then you won't get the results you want. Even the most well conceived events need powerful marketing materials to fill the seats. How will you reach your audience and communicate the benefits of attending your event?
No matter how you choose to promote your event, you will be competing against an abundance of other tasks demanding each target's attention. Your challenge is to emerge from the clutter and earn a spot on that executive's calendar.
Remember to ask, "Will my target audience care?" before you send out every piece of communication for the event. Don't forget your value proposition as well. What will the attendees get from attending your event?
After the event don't forget to thank each attendee for coming, let no-shows know that you're sorry they missed your event and send them relevant presentation materials. Remember: recurring communication is the key. No matter what your objectives are for the event, a well-executed promotional campaign will help your event pay off.
Since 2006, we have had the honor to work with YPO in Houston. YPO, or Young Presidents Organization, provides its members with instant access to their local business peers. Over the past six decades, YPO has maintained a core commitment to its ideals while embracing change with each successive generation of young business leaders. We have had the pleasure to work with them on the marketing materials for several of their events.
The most recent event they put on was The CEO Genome Project. The CEO Genome Project was an educational event for YPO & WPO members. At this 2010 event, members experienced an in-depth exploration of the human genome by combining some fantastic local resources, their own genomes and the Brown Foundation Institute for Molecular Medicine at the University of Texas Health Science Center in Houston.
When we design for an event, we design with a purpose, not just for decoration. We also take the time to learn what our customer's needs and wants are for each marketing piece. With this event, we wanted to think out-of-the-box when tying together the theme of the event with the marketing material.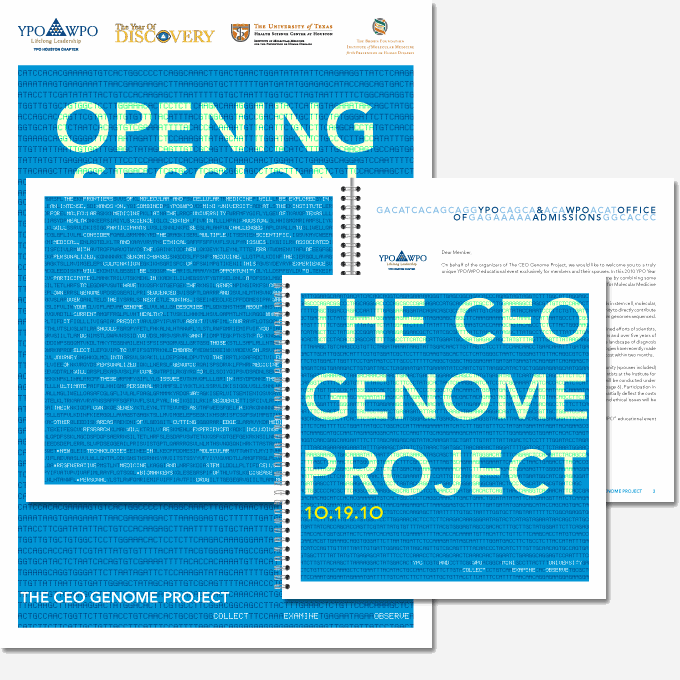 When you look at the picture of our materials, you will see a spiral bond square shaped marketing piece. This is the invitation to the event. Like we mentioned earlier, executives have a lot to review each day for their business. We needed to emerge from the clutter of his or her usual mail to capture each executive's attention. With this custom shaped piece and its unique amount of information about the event, this marketing piece stood out.
Not only is each marketing piece pleasing to the eye, but also each has meaning. When you look closely, you can see A,T,C and G lettering in the background. Instead of randomly putting these letters together, we used actual DNA sequences of the cystic fibrosis gene.
The event was held this past Tuesday. Event co-chair and YPO member, Stuart Gaylor, had this to say, "Everything went extremely well. It was a big hit with our membership. Thanks for everything that you did to help make it a success." Would this type of design capture your attention and entice you to attend this event?