Your webpage's success in organic search has nothing to do with the design, until now. It seems like soon the design of your website could be more important. Of course the design of your website is important now because it helps direct your website visitors to do what you intend them to do. Whether your objective is to get visitors to click on a certain link or buy a specific product, your website design should be getting your visitors to do just that. If not, you know who to call.
Quick vocabulary lesson in website search ranking terminology. SEO stands for Search Engine Optimization. SEO is what Google, Bing, and Yahoo look at to rank your website when certain keywords are searched. Keywords are what you type in the search box. For example, when you type "graphic design Houston" into Google's search, Tribe Design is the first website to appear organically.
Several other aspects go into search results as well, like page titles, inbound links, keyword placement and dozens of other factors. But the real question is, "How will design affect my website's SEO?"
A few years ago, Ask.com allowed searchers to scan over the search result list and see a pop-up that showed a preview of what the page looked like. For the first time, the design of your web page mattered to SEO. The poorly designed pages received fewer clicks. Preview functions like this on search engines have been played with for a while now, but recently news reports show that Google has been discovered testing a preview function.
In 2009, Bing introduced a preview function, but it only showed the keyword content from the page, so the actual design didn't matter. But all of this may be changing if Google decides to go through with the preview concept they are experimenting with, as reported by TechCruch. With SEO you have a choice, you can ignore your page design until the search engines implement this kind of function, or you can decide that your conversion rate is worth investing in and go for it now.
We imagine that this may soon be a permanent change with the search engines. If your web page is poorly designed, it is only a matter of time before it starts to hurt your click-through rate the way it already hurts your conversion rate.
At Tribe Design, we already work hard to help each of our client's websites rank well by using appropriate SEO tactics. We first use Google Adwords to analyze keywords and hone in on search terms. We help our clients by making sure their content is keyword rich. We make sure the images are tagged with the appropriate keywords. Something we do that is a little different, is encourage our clients to use their webpage title wording to their benefit. For example, instead of using "Welcome to Gillis, Ellis & Baker, Inc", why not use "Gills, Ellis & Baker, Inc Commercial Insurance Brokerage Group Louisiana Insurance Solutions"? We also add Google analytics once the site is launched. If you have an outbound link on your website, does it take your website visitor to a new browser window or does it use your window so your webpage disappears? We make sure that each outbound link opens a new window. At Tribe, we don't decorate, we optimize. Here is a "before and after" look at the website redesign project for, Gillis, Ellis & Baker:

vs.

Before we started this project for our client Gillis, Ellis & Baker in June 2010, when you searched for "Commercial Insurance Brokerage Louisiana", GEB didn't show up. One month after the August 2010 site re-launch, they rank 4th in the organic search results for the same keywords.
Website Before: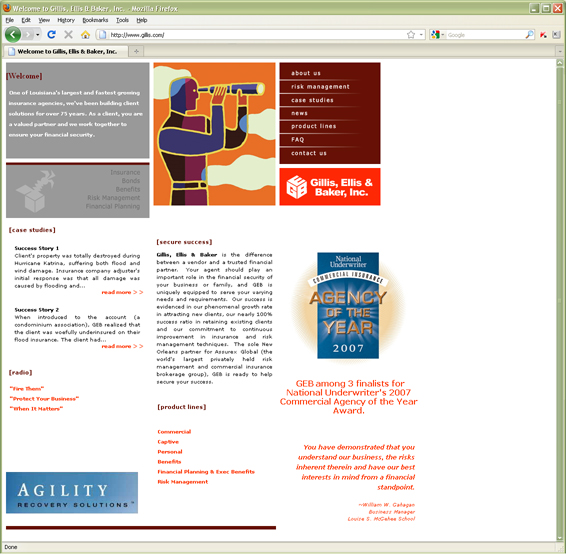 After: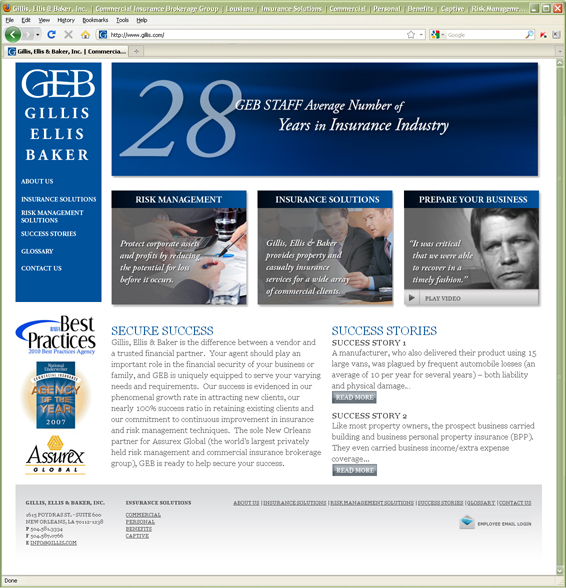 Search Results: