Branding is our specialty. Creating a company's brand image from the ground up is what we enjoy doing best. Starting a branding campaign or rebrand from scratch, allows us to carefully shape and manage your brand. From the logo design to the website, business cards and other branding materials, our goal is to make a strong statement about your business by making everything as cohesive as possible.
Take Paragon Aviation Group for example. They are a family owned start-up company that focuses on creating a network elite FBOs in the aviation industry. Between the three partners of Paragon Aviation Group, who happen to be family members, they pull together knowledge and understanding from generations of experience in the aviation industry.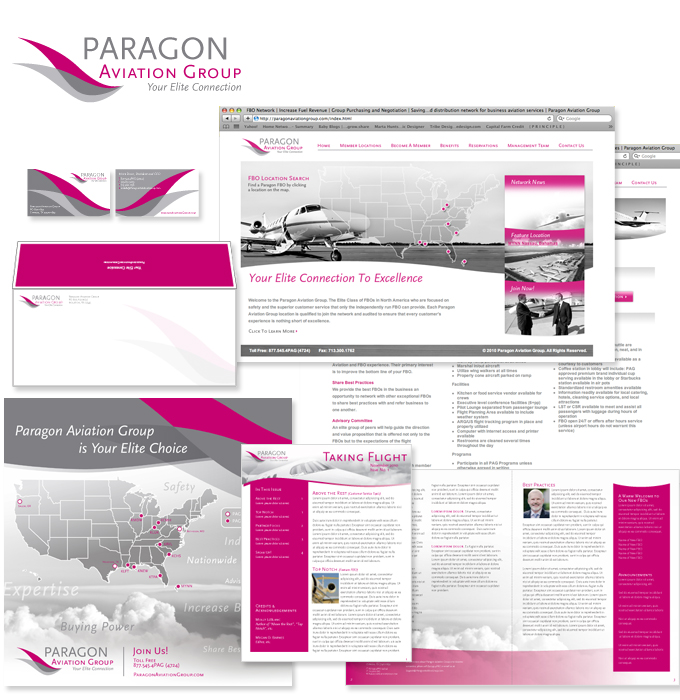 When it came to designing the logo, they wanted something that was modern, professional and classy. Something conservative and run-of-the-mill was out of the question. They wanted to stand out amongst their competitors.
After considering many logo marks and color options, magenta and gray became the final logo colors. The intertwining wings became a mark that symbolized strength, elegance and unity. The sans-serif modern typeface and punch of pink gave the logo an up to date and slightly edgy quality. Paragon Aviation Group's industry trends have shown an increase in larger chains dominating the independents. Paragon wanted to emerge from the clutter of their competition with a brand image that rivaled the larger chains.
On the website design, this translated into using classy black and white photography with pink as the accent color for sidebar graphics and headlines. Business cards, stationary, a trade show booth and PowerPoint template, among other materials, were quickly to follow. Now Paragon is on their way to having practical branding tools that they could work with on a daily basis and the confidence to step out into the industry with a fresh face.
"Tribe Design did an incredible job designing our logo and helping us develop our brand. Their commitment to excellence is obvious through their quality in design, recommendations, and turn around. They listened to our vision and needs as a new company looking to deliver an effective message, the product they created couldn't have been better. They are by far the best marketing company I have ever worked with, and look forward to my continued relationship with them over the years as our marketing needs continue."

Molly LeBlanc, Marketing Director, Paragon Aviation Group
If you are building a new company and feel a bit lost about where to start with your brand image and marketing, Tribe Design can help. It is not only what we have been doing for over 17 years, it is what we enjoy doing.