The other day I went to a potential client's office and sat down with the company president and I.T. guy. The first thing the I.T. guy says to me is, "what's your website so I can look it up really quick and get a feel for your company?" He was sitting right next to me, viewing my website on his mobile phone and basing his initial opinion about my business on my website instead of our meeting.
Yes friends, this is how people are making decisions now. Does hearing this story make you nervous about your website?
A website is a very important marketing tool because essentially it is the face of your company, even when you may be present. Your customers will most likely visit your business's website to find answers even before picking up a phone. In turn it is important to make the user experience a smooth and pleasant one. Besides having a great visual design, it is vital to have great navigation that makes it easy for your visitors to find the information you want them to find on your site.
There is a right way and wrong way to build a website. Unfortunately, many companies choose the wrong path by having a friend or relative be their web designer. It's probably cheaper but they will eventually pay the price for a poorly built website.
Here's the good news; it can be fixed! Redesigning websites is one of Tribe Design's specialties, and we pride ourselves on ensuring our clients receive the best results from their website.
One of our recent client website re-launches is Chammas Cutters, Inc. Their newly overhauled website highlights many improvements including custom visual design, overall consistency, easier navigation with a drop down menu and an animated display of company and product images. Can you tell a difference? Check the links below.
Before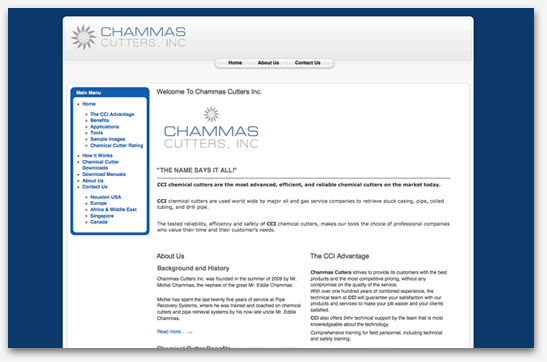 After