When building a business or organization, you need funding. Who do you look for to help? Most businesses or organizations seek out investors, shareholders or donors. As your business or organization grows, how do you keep those investors, shareholders or donors engaged and enthusiastic about your mission? Sure you have board meetings and invite them to events, but you also present them an annual report. What type of impact does your annual report make?
Lives are getting busier and attention spans are getting shorter. This is also the case for your investors, shareholders and donors. How do you keep them interested in what you are doing and still willing to contribute? If your annual report is only pages and pages of statistics and numbers, they will lose interest fast.
For the past eight years, we have worked with the wonderful non-profit, Covenant House of Texas on designing their annual report. Although non-profits have limited amount of money to spend, it is important to have a professional presence with their branded materials.
Every year we strive to provide a new and unique design that highlights their accomplishments over the past fiscal year. The report also features personal success stories from the young people they have helped by providing guidance and a safe place to stay. These stories are amazing and, combined with our professional design, truly showcase to the donors, who they are helping and how their donations make a difference.
The report is prepared and designed to convey credibility and professionalism. This report shows donors and potential donors how serious and organized Covenant House of Texas is about their mission. Presentation is the key when asking for any type of participation or donation. Without a professional look and feel, your organization or business can fall to the wayside with opportunities from potential donors, investors or shareholders.
Another great way to market your business or organization is to attach your professionally designed annual report to your website, blog or social media sites. Make this presentation piece readily available for potential audiences to see.
The theme for this year's annual report was "Unlocking Potential". This theme refers to helping youth find potential in themselves and the opportunity for Covenant House of Texas to help more young people. The graphics have a rough textural quality to them, which is interesting and beautiful even though unpolished.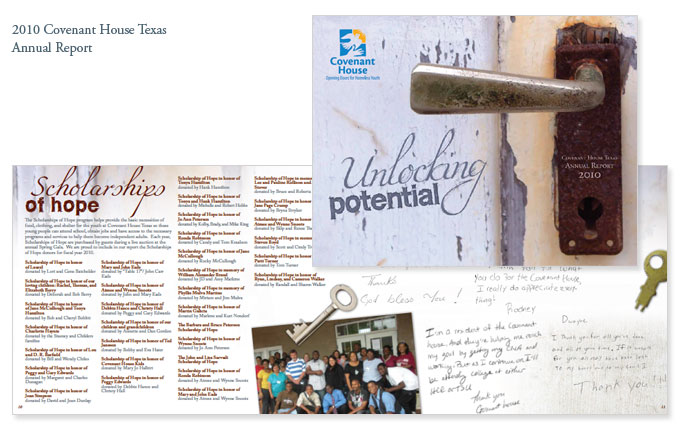 "The creative process and the ultimate design of our annual reports have been exceptional. Tribe brings a fresh look each year to the table. Every year we are presented with three designs to consider and it is always difficult to choose which one is the best. The Tribe Design team is great to work with and seeks to incorporate and encompass the very heart of the Covenant House of Texas message – the importance of providing services and a caring atmosphere for the homeless and runaway youth we serve."

Cathy Henderson, Director of Development & Public Relations
Covenant House of Texas