In honor of the 2011 NCAA Men's Final Four in Houston, we are taking a look at how business's leveraged their marketing campaigns to promote brand awareness with the Final Four.
In order to capture a large audience's attention many Houston businesses have launched marketing campaigns branded with the 2011 NCAA Men's Final Four. The question is, is that a smart move?
We say Yes, if you do it correctly. Here are our top 4 tips for infusing your visual brand to an event/marketing campaign:
Brand with a Twist – Use aspects of your current brand image or logo with creative characteristics from the event. For example, Google fuses their logo with holidays or special events. You still acknowledge Google's brand, but you also recognize the event or holiday associated with the brand image.
Be Innovative – Don't haphazardly mix your event marketing campaign with your brand identity unless you have a plan and a clear vision to differentiate your business from your competitors. For this year's big dance, Coke Zero made a plan to create the most impressive and robust online fan experience ever with the launch of Coke Zero NCAA Madness Social Arena.
Don't Be Afraid to Partner – Whether it's fun competition or a group of complimentary businesses, promoting the event collectively increases brand awareness from new perspectives. Using a play on March Madness brackets; Culture Map partnered with 32 Houston restaurants and created the Big Dance Restaurant Challenge. Each restaurant was voted on by their fans to move on to the next round. All participating restaurants received tons of publicity and raving reviews.
Involve Your Audience – Using event marketing to promote a sense of community always helps increase your brand awareness. Relating with your audience through giveaways or by asking their opinion on guest speakers or performers builds buzz around the event and encourages people to talk about your business. Hotel Derek leveraged their marketing plan for the Final Four and offered free tickets to the games from a giveaway on their Facebook page. By doing this, they increased their fan base and amplified brand awareness.
Here is a project that we completed for Halliburton a while back. Halliburton wanted to hold a series of personalized events at their suite in Minute Maid Park. We developed a sports-themed concept that appealed to Engineers while tying in to baseball. The invitation, poster series and programs not only featured Halliburton products and services but included key facts about the sport and provided the observers with a baseball scoring card.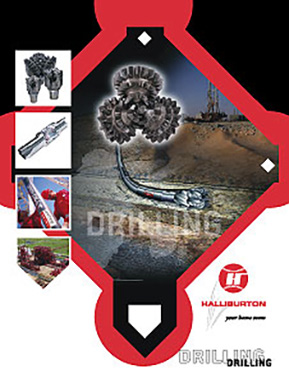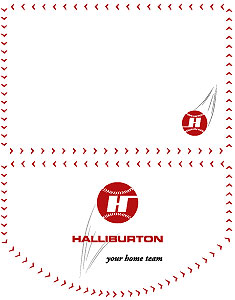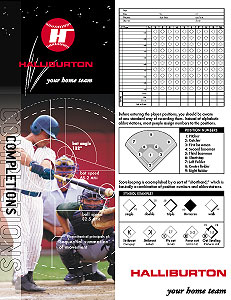 When the opportunity arises to leverage a new marketing campaign, the smartest idea is to consult with a professional. Not only do we bring an outside perspective, we are innovative with marketing campaigns, graphics and brand awareness.
Tribe Design 713.523.5119 studio@tribedesign.com