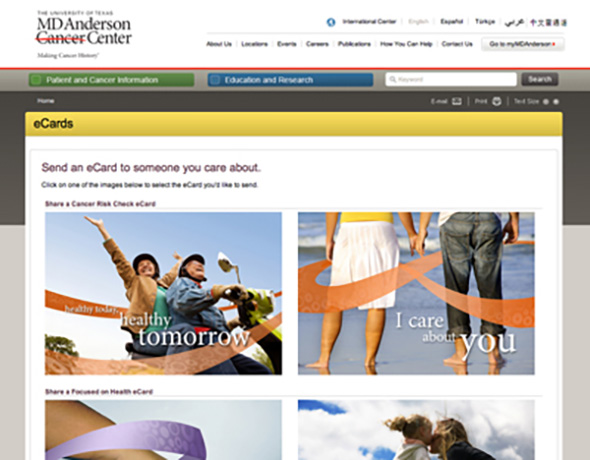 This is truly the age of instant gratification through the virtual world. While most business is being conducted online, why should follow up be any different? Do you send thank you cards to clients or prospects now? If not, why? Is it because of inconvenience and time consumption? There is now an easy solution to the hassle, but much needed follow up with your clients or prospects.
The green alternative to sending a card in the mail is an e-card. These electronic cards can be sent over the Internet through your email address.
What are the benefits of using e-cards for your business or organization?
No Cost for Postage – When you send out cards electronically, you do not have to spend any money on postage.
No Delay When Sending – When you don't have time for the delay of the postal service, e-cards step in with the ability to send the card instantly.
Maximize Design and Creativity – When working with a designer, you have endless opportunities to be innovative and memorable with the use of your brand and photography, imagery and text.
Get a Notification – Do you ever worry that your card was not delivered to a client or prospect? With e-cards you get a notification as soon as the recipient has received your card.
When you send a professionally branded and designed e-card, it can create a memorable experience that will bring clients or prospects back to you.
With our client, the MD Anderson Public Education Office, we created a series of e-cards to promote their online Cancer Risk Tool. The audience is the general public and the overall message is to bring awareness to lifestyle, diet and family history to improve quality of life. The challenge was to develop a series of visual images that conveyed encouragement, prevention and awareness but not 'doom and gloom'. The end result was a series of warm, heart-felt images that contained an upbeat feel. The ribbon element tied the imagery together and gave the visuals a dynamic energy.
Check out the finished project: https://www3.mdanderson.org/publicedu/ecards/
"From the beginning, Francisco and the rest of the Tribe Design team understood exactly the type of design we needed, and they created beautiful e-cards that reflected our brand and the types of messages we wanted to share. They were extremely professional, patient, and a pleasure to work with. "
– Laura Communications Specialist at MD Anderson Public Education Office
E-cards are a customizable high-end solution designed for any business or organization. Tribe carefully crafts and professionally designs e-cards that can contain photos, text and audio to convey your message. E-cards create an excellent opportunity for your business or organization to carry out a variety of online marketing initiatives.