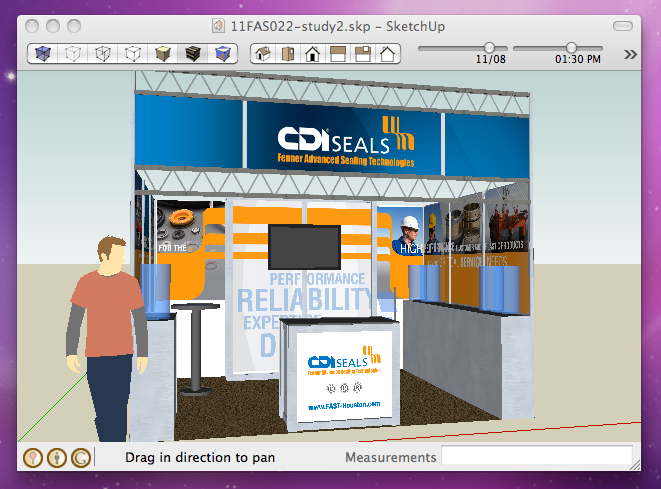 Are you exhibiting at a trade show in the near future? There are many things to consider when planning for the event including pre-show marketing, selecting a suitable booth space, travel arrangements/logistics and a post-show follow-up. But when it comes to tradeshow graphics, our clients know that they can count on us to deliver high impact, professional graphics that will get their booth noticed.
We understand that translating print graphics to a 3-dimensional structure can be challenging. Not only do you have to consider how to apply visuals/messaging to graphic panels but also how they translate when viewed from different angles and perspectives.
The next challenge is presenting the design to your client and hoping that they can visualize how the finished piece will look like in "real life". You could try presenting flattened two-dimensional proofs to clients but this approach can be clumsy and cumbersome. You also can try superimposing your graphics onto a rendering of the booth space, but this doesn't do justice either. We take our tradeshow design proofs a step further and actually create an interactive three-dimensional model for our clients to review.
We incorporate Google SketchUp in our digital mock-ups and presentations. SketchUp is an innovative, 3-dimensional modeling software for interior design and architectural applications. We found that it was a perfect match for our tradeshow projects. Google SketchUp allowed us to apply our graphics to any tradeshow backdrop/structure. We could then present our tradeshow graphics to our clients and easily pan, zoom and rotate the model to any viewing angle we wished.
Check out this custom booth design that we completed for Offshore Europe 2011. Not only were did we successfully translate our client's visual branding to the booth space but our client was able to preview the design from all angles before it was produced: