Looking back over 2011, at Tribe Design we are thankful for another busy year. As our client base has grown more diverse, web design work has been an increasingly common request. Since graphic design is slowly shifting its focus away from print and onto web we are constantly thinking of ways to improve the online experience for our clients.
More and more we keep hearing about those wanting to be able to edit their own website. The best approach was implementing WordPress as a web content management system (CMS) because it is simple but effective. It is easy to administer, expandable and widely supported and most importantly our clients find it comfortable to use.
Traditionally, WordPress is known for its superior blogging platform but recent internet trends show that more businesses are utilizing WordPress as their corporate website's backbone. When properly set up, WordPress can be a powerful tool with many features beyond a simple blog.
Antares Energy has recently relaunched their website. We have had the pleasure to give it an updated look and feel and also improved their website functionality. Their primary concerns for the website makeover were:
Display downloadable documents: news releases, quarter/yearly reports, presentations
Easy sign up for distribution list / email marketing
Dynamic photo gallery showing job sites
Real-time stock feed integration with share price
"Antares Energy wanted to transform its serviceable but antiquated existing website in to a modern, fully functioning showplace where stakeholders could learn more about the company and its projects. Tribe Design delivered on our wishes in an efficient, professional manner that is becoming increasingly rare to find. Tribe was able to take our initial ideas and greatly improve upon them. When we launched the new website, the feedback was immediate and unanimously positive. Our experience working with Tribe Design has been an unqualified success."

– Matt Gentry, COO, Antares Energy Company
If part of your marketing plans for the new year includes revamping or designing your corporate website, contact us to see how we can improve your brand building by design.
Old website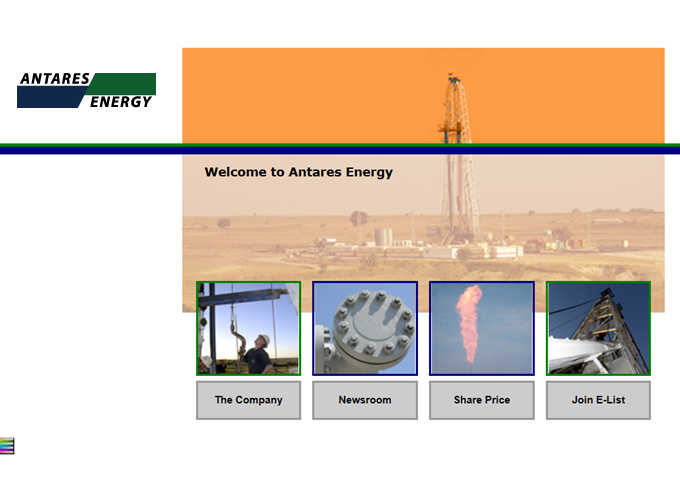 New and improved website