How do you market something that doesn't exist?
We were recently worked with Sudhoff Properties and Röhe & Wright Builders to create a custom pocket folder and insert to promote their latest development, Winfield Gate. Winfield Gate is a group of 20 luxury, gated townhomes in the heart of River Oaks. It offers buyers freedom from all exterior maintenance, rooftop terraces with potting sheds, fireplaces and outdoor kitchens and views over River Oaks and towards downtown.
The challenge with Winfield Gate was creating collateral for a property that is in the first stages of construction. We had the artist rendering and photos from other luxury properties that our client had built. Creating an identity for Winfield Gate so that it could stand apart from other residences in the area was key. But how to do capture the lifestyle and ambiance of a home without physically walking through the door?
Winfield Gate already had an interesting story. It is modeled after Winfield House in London, the residence of the Ambassador of the United States of America to the Court of St. James's. Each home is named after a great American Ambassador who has made an important impact on the subsequent preservation and enhancement of the landmark property. The architecture and decor would have a traditional, classic feel with modern state-of-the-art amenities.
Our clients wanted a high-end printed piece to give to potential buyers. We created a tagline for WG, "At the Heart of Luxury." Since the homes are to reside essentially in the "heart" of Houston and a home is something very personal to people, it fit perfectly. The color palette of the Winfield Gate collateral was changed from a dark navy to a chocolate brown, cream, gold and light blue. We felt it was important to select colors that conveyed elegance, richness and a "home-y" feel. We incorporated photos of furnishings that complemented the home's planned architecture to spark the imagination of a potential home buyer. A custom pocket folder with die-cuts, spot metallic ink and UV varnish gave the piece the final touch.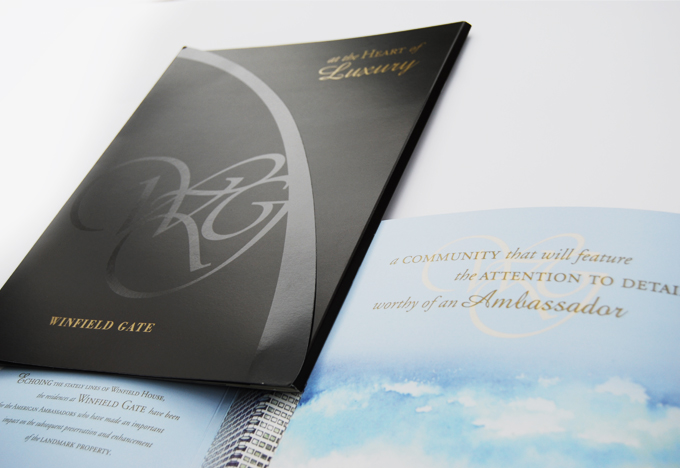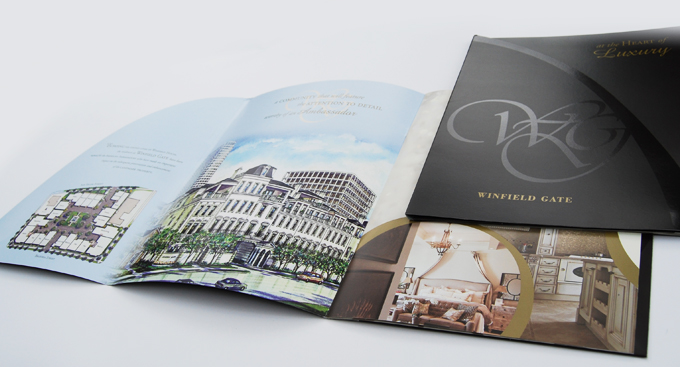 "Tribe's professionalism and passion for design really showed on this project. They delivered a killer brochure on a tight deadline, and now we're breaking through our sales goals with it."

Alex Boase
Marketing Manager
Sudhoff Properties
As creatives you have to find the heart of the project and bring it to life. Every product or service is only an idea until it comes into its own through the right graphics, messaging and presentation.
We feel very proud to be a part of marketing this unique property. Over 40% of the homes have already been sold! If you are in need of creative marketing materials, contact us today to see how we can help your "Branding Building by Design".