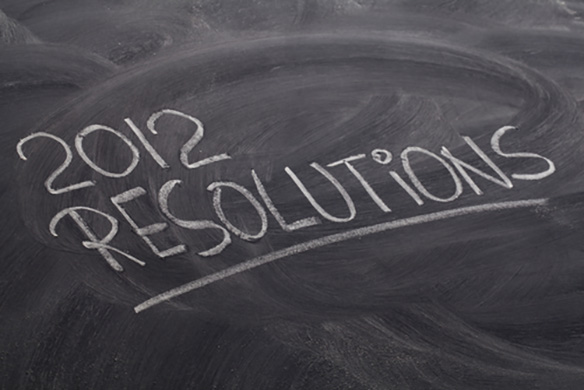 Did you make a new years resolution for 2012? Maybe you have given up on personal resolutions, but what about resolutions for your business? Well, maybe resolution is a bad word because most people don't keep them. Any business coach will tell you, you need to set goals every year. So, what are your business goals and objectives for 2012? We made a checklist to help you get started.
Business Goals and Objectives for 2012
Should you?
Update Your Company Logo – While we don't recommend you change your company logo often, you do need to know when is the right time. For example, update your logo if there was a major shift in your business's direction or your business is maturing and you need a more professional or modern image.
Revamp Your Company Website – Do you and your staff have the ability to make regular updates to your website without paying a web developer? If not, you need to have a web content management system that works for you and your business. With new content in demand from search engines and social media sites you can't afford not to make regular updates.
Redesign Your Marketing Collateral – As business technology has progressed over the last few years, several industries have changed. Has yours? Have you had to evolve your products or services? If so, you may need to update your brochures, technical sheets, PowerPoint presentations or direct mail campaign.
Update Your Tradeshow Materials – How many trade shows do you plan to attend this year? Are your graphics and displays still representative of your products and services? Is your material in the correct format for the booth space you reserved? Would a retractable banner be a more economical and professional face for your business?
Update Your Brand for New Technology – With the use of smart phones, apps, search engines, social media and several types of web browsers, where does your business fit in? Don't be overwhelmed just be informed. While your website may not need to visible on every medium available, know which mediums your potential customers are using. Does your business need an app? Maybe not, but does your website show up on Blackberrys and iPhones? Now is the time to check.
For nearly 20 years, Tribe Design has been helping companies reach their business goals by developing and executing effective marketing strategies that grow a company's brand. If you said yes to any of the questions above, contact us today to see how we can help your Branding Building by Design.