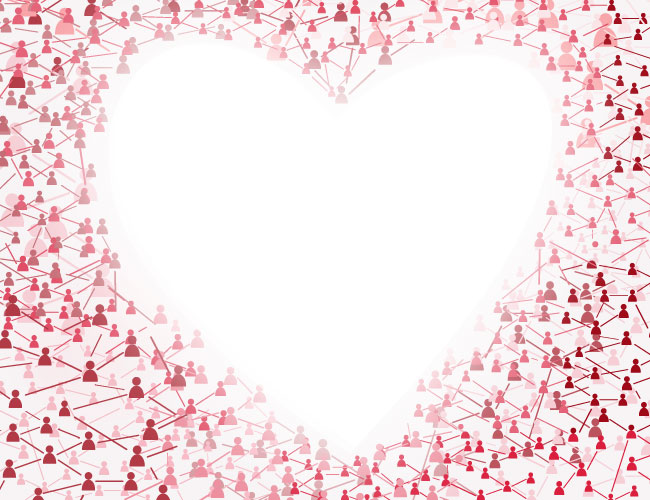 With Valentine's Day coming up, we wanted to reach out to our clients and colleagues and say, "We love working with you!".
In the past two decades, we have seen a lot of heartache where businesses were promised everything but weren't happy with the product or service that was delivered. When you build relationships and truly partner with a company, how often are you disappointed?
At Tribe, we strive to form lasting partnerships with all of our customers. We are artists but not decorators. We understand business and marketing strategy. Our approach is intimate. We take the time to learn your industry, target audience and business goals.
As Jeffrey Gitomer says, "The secret to customer loyalty lies in putting the interests of the customer ahead of your own."
But don't just take our word for it. Here are a few tidbits from a long-standing client:
"My firm has worked with Tribe Design since 1995 to create winning campaign materials for our clients. They have handled literally hundreds of projects for us including logo design, brochures, event invitations, mailers, outdoor advertising and websites. The workload is heavy and project turnaround is measured in hours not days… I demand creative, eye-catching, error-free communications. Tribe has never failed to deliver. Tribe ascribes to a service model that I find appealing: Get it done, fix it fast and don't make excuses. They are friendly, affable and have a strong work ethic. They are great to work with. Tribe's work is always of the highest quality of work, on time, and on budget. I recommend them without reservation."

–Allen Blakemore, Blakemore & Associates
Business-to-business marketing can feel like a small community. We are connected in many ways and with the powers of social media our world is rapidly shrinking. A recent article from Facebook stated that there are "six degrees of separation" between any two people on earth, meaning that any two people would know each other through no more than six intermediary contacts. So how does this affect you?
When a company produces poor work, they can no longer hide. It is much easier for potential customers to weed out the bad from the good. How you treat your customers and projects matters!
The next time you get ready to hire a company for print design or a web project, ask your friends and fellow business partners for their recommendations. Take the time to look on social media sites and read the reviews. Why risk your project by hiring a fly-by-night company who gave you a flashy presentation?
We get most of our business from referrals. We love delivering projects that are on-time, on-target and on-budget. If you're not happy in your current relationship with your marketing design company, contact us today to see you we can help your Brand Building by Design.