As the year winds down, it makes us think about what goals and aspirations we may have for the year to come. As a business owner, you may be thinking about ways to attract more customers and hone in on the audience you are looking to serve.
Can upgrading the look and feel of your brand get you the type of clients and customers that you are hoping for? Just ask our clients.
We recently upgraded Cornell Real Estate Group's website to a posh, sophisticated feel. Using a minimal color palette of emerald green and black and white makes the Cornell brand very distinct. (Emerald Green is also on point for the hot color of 2013 according to Pantone). Woodgrain and upholstery patterns along with a script font accent also contribute to the elegant, upscale feel.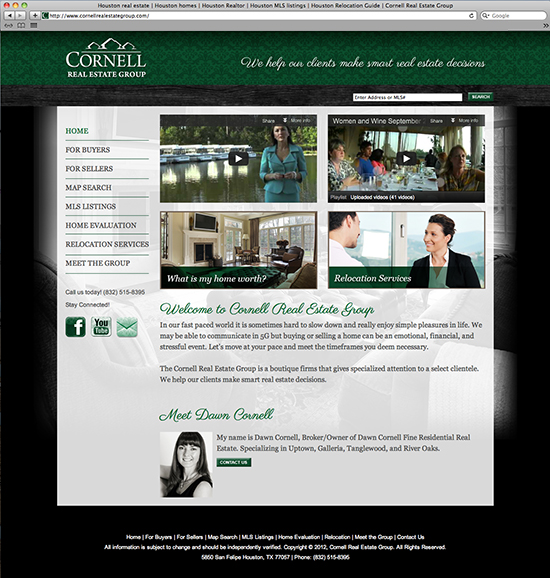 Dear Tribe Design,
Thank you for creating a professional and inviting webpage for the Cornell Real Estate Group.
This was the first step in launching our new marketing campaign. The website beautifully showcases our social media and connects us to new clients through our mailing list, Facebook, and our YouTube channel.
At our launch event we used our new website on an iPad and we successfully captured 75 brand new contacts.
Tribe Design helped keep us on track with budget and completed the project in time for our launch event.
We look forward to a working on future campaigns with Tribe Design and would highly recommend the creative mind of Marta Huntsman for a sophisticated and polished web presence.
– Dawn Cornell, Cornell Real Estate Group
Instead of sending prospects to a basic broker page on HAR, Dawn Cornell wanted her business' website to reflect a stronger brand identity and stand out among other realtors.
Make a brand upgrade one of your New Year's resolutions. Contact Tribe Design for a free estimate and ideas on how to refresh your business' brand.