A recent article in the Houston Business Journal, Top 5 Mistakes to Avoid When Creating Viral Infographics, suggests that a great tool business owners should be using to grow their business online is infographics. According to Google, searches for infographics have increased 800 percent in the last two years. Have you considered using one for your business?
You may want to know what an Infographic can do for your business. Do you need to overcome the information overload and get your message across? Infographics are your secret weapon. Using a strategic, professionally designed Infographic enables you to deliver knowledge and ideas visually so your audience can understand them quickly and take action!
Do you have new products or services that you would like to showcase to your current and new clients? Are you concerned that your message may get lost? The best way to represent this type of data is a strong Infographic.
An Infographic can present a lot of information in a small space. Clever infographics are eye catching and surprisingly budget friendly. Because of these reasons, business owners are asking for them for all of their products, services or processes to ease the explanation of use to their customers.
Your target audience is receptive to this type of graphic because of its individual personality, potential quirkiness, combination of typography, bold color schemes and shapes that intrigue viewers.
Creative graphic designers ask the right questions and really dig deep into the company culture and brand projection. This way they can create the perfect story atmosphere around the product, service or process' facts and numbers. The goal is to communicate a personal connection with your audience through the graphic.
Check out this infographic we created for Republican candidate Mike Schofield for the upcoming Texas House District 132 runoff election: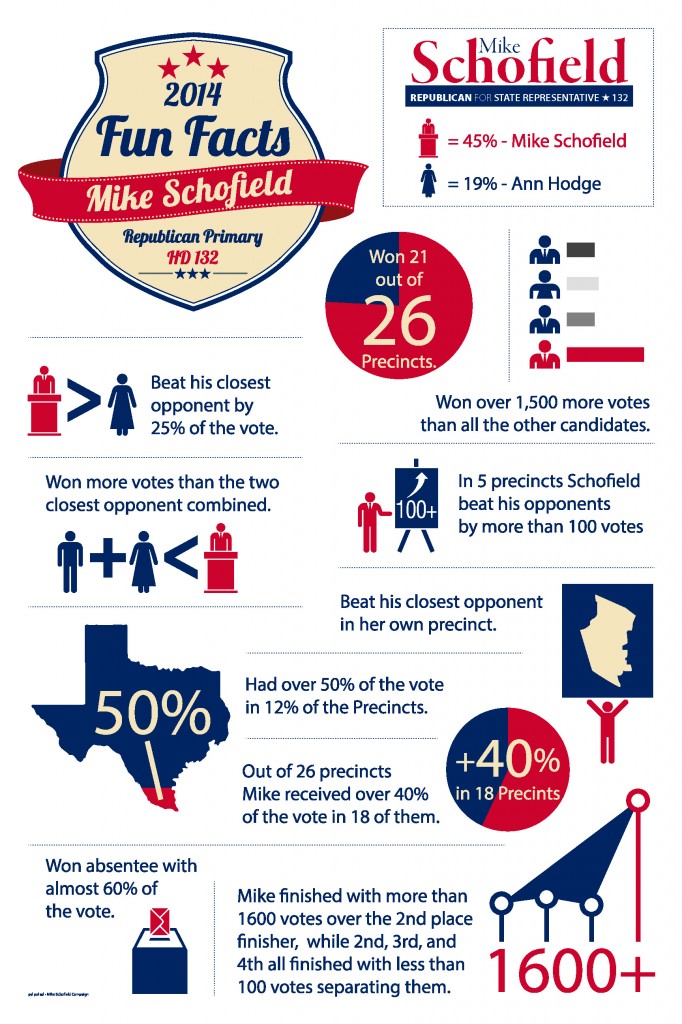 Maybe it brings us back to childhood comics or puzzles or maybe it's just eye candy, either way it's the new way to learn and understand a product, service or process for any industry quickly and efficiently. For the most effective way to communicate large pieces of data to your target audience consider an Infographic produced by a professional like Tribe Design.