Our client, Trees of Hope, conducts fund raising activities for the exclusive benefit of Star of Hope Mission. Its yearly holiday-themed gala provides a delightful evening of great entertainment and a marvelous array of silent auction items, trees and wreaths. But how could this year's invitation convince potential donors that this was "the" holiday event to attend?
The objective was to develop an eye-catching invitation design that would stand out from the clutter of every day junk mail. The graphics had to reflect the year's event theme, "Winter White Gala".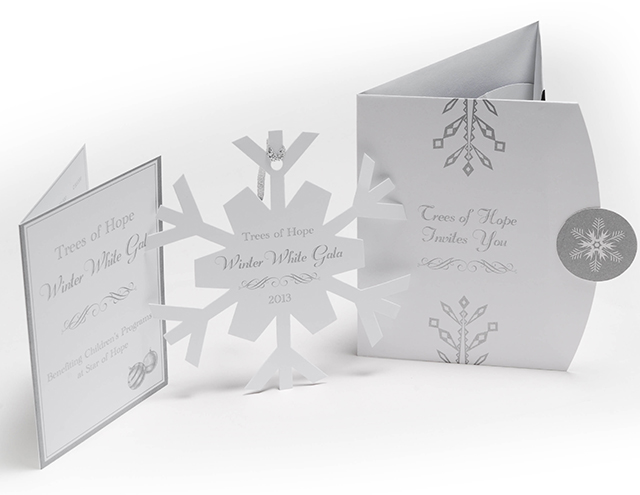 We used a specialty paper with a stark white finish. We developed a circular invitation which folded into a square size. We complemented the custom format with minimal graphics and a simple layout to emphasize "Winter White". We included a custom die-cut ornament as a keepsake to commemorate the event.
The silver metallic ink used in the invitation printing reinforced the event's theme. The sophisticated graphics resonated with the affluent, up-scale target audience. The custom packaging and attention-to-detail helped convey that this was a truly special event for a great cause.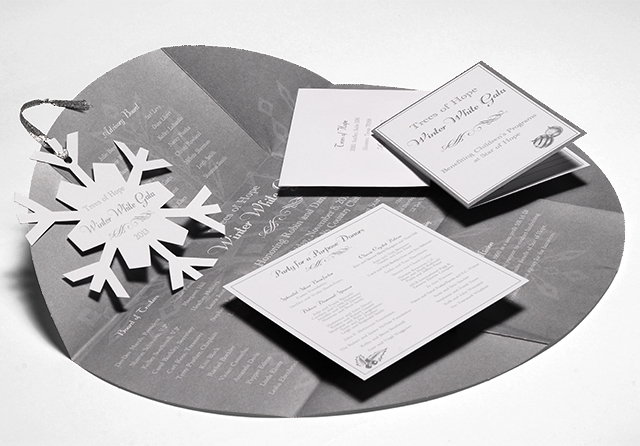 The gala was sold out (with one table on the waiting list) and the auction raised $60,000 more than the previous year. Long-time supporter and philanthropist, Lynn Wyatt, called Trees of Hope and raved about how elegant, beautiful and exquisite the invitation was.
This piece is a finalist in American Marketing Association's Crystal Awards.
If you're planning your company's next event and need a promotional invitation package to draw in the crowds, contact us today to see how we can help your Brand Building by Design.