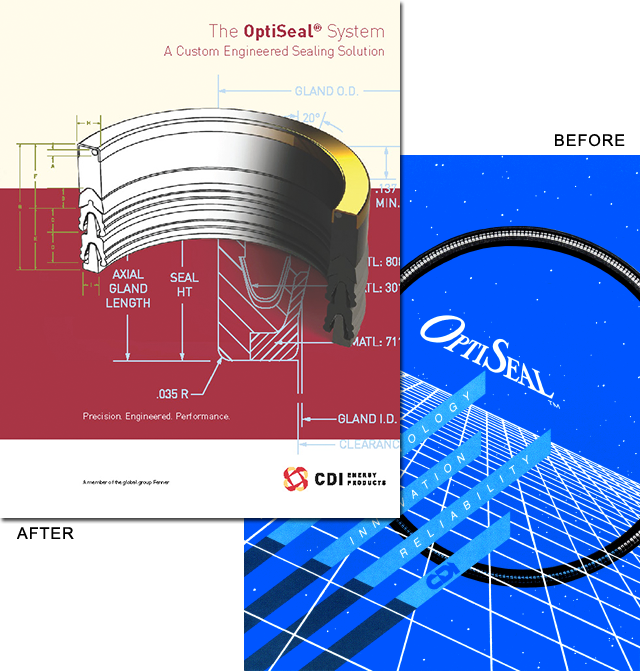 You don't have to sacrifice function over form when it comes to the professional, visual appeal of your marketing material. Not all industries have glamorous products and services (like mobile phones and entertainment). This doesn't mean that you have to settle for marketing materials that look like your competitors or fit the 'norm' in your industry. With the right brand vision and experienced team, you can have marketing materials that not only showcase your product or service, but also visually set you apart from the competition. Here are a few tips to help you get started on the right path…
Start with a Strategic Approach – Instead of focusing solely on the marketing communications driven by your products and services, take a step back and think strategically first. Start with your overall goal to drive the content and messaging. With this goal in mind, you will find the end result of the collateral is better than you imagined.
Consider the big picture now and in the future – Most people put together marketing material with a specific event or meeting in mind. While it is smart to produce material for an event or meeting, don't forget to consider how you will use the material after it is over. Can it serve more than one purpose or was it designed too specifically for that event that you can no longer use it once the event is over?
Choose an experienced team to partner with – while it can be very tempting to use the newest and shiniest creative firm on the block for your marketing collateral, look beyond the flash. Working with a creative team requires time, money and trust. The last thing you want is to hire several wrong firms before you find the right team. Do your research on experience and portfolio. You don't want a design firm that works with all your competitors (who have similar marketing material), but you want a firm with professional experience in multiple industries. You are more likely to get unique, original ideas and designs from a firm that works across several markets.
A recent client of ours took this approach when hiring a creative design team to partner with. By taking a strategic approach, considering the big picture and choosing an experienced design firm they not only came out with the marketing collateral that they wanted, but they also won an award for the design. Here's what they had to say about their experience working with Tribe:
"Fairly fresh off the heels of a complete corporate rebrand, we slowly started the process of revamping a lot of our marketing collateral. Rather than focusing on marketing communications driven by final products, we tried to approach our efforts strategically—what was the goal of the overall effort? We chose to develop a brochure with technically sound and robust information—something more like a design guide. We picked a 15-year old brochure to revamp. We needed to make sure the new piece matched our new brand standards but we also needed to find a way to ensure that the information was graphically represented. We wanted it to be creative and forward but still have the technical look and feel that represents our organization. Tribe Design did an excellent job in executing the project. They worked with us through the time intensive process of copyediting, layout changes and countless revisions. They went above and beyond to help us seamlessly get it all pulled together and ultimately helped produce a piece of literature we could go to market with. Initial feedback has been that our customers are very impressed with it, find it extremely useful, and it is in rather high demand."
Brian Bowers, Marketing Specialist at CDI Energy Products
If you're ready to tackle a new design for your marketing collateral, we'd love to help. We truly enjoy taking our clients ideas and visions and creating them into a reality.