For recruitment purposes, The University of Houston College of Technology needed a cohesive way of showcasing their degrees offered to graduate and undergraduate students. Their existing collateral consisted of loose promo cards with descriptions about their various programs. The current graphics needed to be updated to comply with the new branding standards developed for the University of Houston.
The goal was to create a series of informative brochures that would inspire students to consider an exciting degree in the world of technology. The new format needed to allow for a more in-depth look into each degree and become a practical tool for recruiters.
By highlighting key facts and figures and showcasing students in their learning environment, these pieces managed to show how the degrees are relevant to technology-based jobs offered in the real world today.
While staying in line with the University of Houston's new brand image, we created a series of brochures that are attractive to college students while still looking professional. With the use of photography and detailed descriptions of each degree, the reader is taken on a journey through the campus to get a feel for the environment and culture of the College of Technology.
"Since the College has experienced amazing growth and expansion – both in enrollment (more than 4,846 currently) and programs/degrees, the newly designed marketing collateral more effectively increased awareness and comprehension of the benefits of earning a degree from UH.
As versatile marketing tools, the brochures target our advisory boards, donors, also proving to be engaging to alumni audiences. By adding this series of brochures to our marketing communications portfolio, we have provided a more efficacious way for our academic advisors, outreach staff, and faculty to showcase the degree programs.
The College is remarkably diverse, (4 Departments ranging from Engineering to Technology and Human Resources) our new collateral powerfully delivers supports the "brand" promise that this is one college offering a world of possibilities!
Our College enrollment has increased 19% from Spring 2014 to Spring 2015. The brochures played a vital role in our ability to consolidate a great deal of information and communicate the value of our 22 degree programs in a more concise manner."
Marilyn Howard Jones
Manager, Marketing & Communications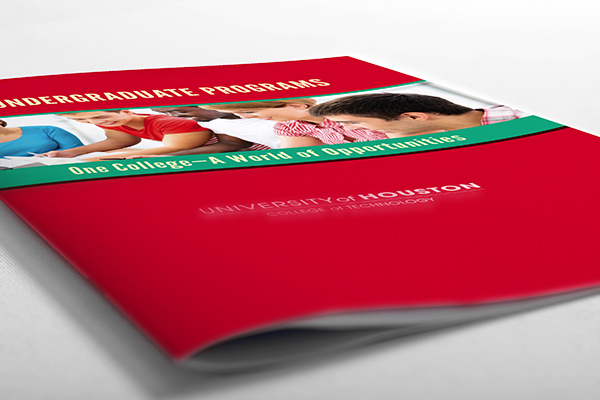 This piece was a finalist in American Marketing Association's Crystal Awards.